Relax and enjoy the Pacific Ocean…you'll know why we love it!
**********
Enjoy our trip to Verona, Italy, where our book was made.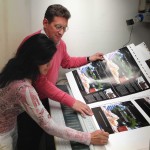 ***********
If you wish a sneak peak into what's in our book, watch this visually beautiful preview video we put together.  You'll see why our coffee table book is perfect for those who love the coast!
Our book is available through this website (free shipping for first book), Amazon, and through select local retailers. (For international customers, please contact us for special pricing.)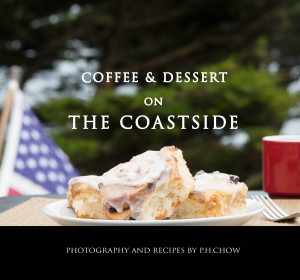 The Coffee Table Book on The Coastside: 
"…a beautiful compilation and the confections look delicious!"
The Former First Lady, Laura Bush
This 288-page, full color, 5.5 pound, 11.5″wx10.75″hx1.13″d, hardcover coffee table book was printed in Verona, Italy on 170gsm Gardamatt paper, each image spot varnished for vibrance, crowned by vivid Matte Laminated cover and silk-screen spot-lettering on the Jacket and Spine of the book, and finally bound in none other than Padua, Italy, the center of book-making!
For those who love the Art of Print, they will appreciate the high quality of this beautiful photographic landscape and dessert document of our Pacific Northern Coastside.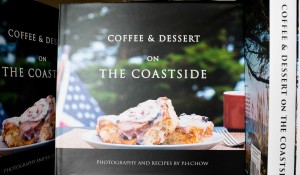 Click Photo to Purchase our Book
(If there is any glitch with ordering, please contact us!)
Having spent hours taking photographs amidst empty beaches, beneath towering Cypresses, and overlooking endless bluffs, I am reminded by that insightful Shakespeare, who wrote, "Life's but a walking shadow; a poor player that struts and frets his hour upon the stage, and then is heard no more."
PHC, Author
Moss Beach Productions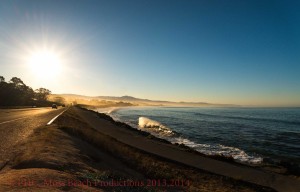 *********
If you're interested in one of our next projects in the works, here is a sample:
"While searching for the perfect ledge, there came a faint ringing from afar. At first, Kate ignored the intrusion. She was focused on the winding buttress hundreds of feet below her. It was an ancient wall, resembling the spine of a mythical dragon, slithering back and forth across the harsh terrain. Seemingly unending in its east-west course, the stone partition served as a warning to those beyond its walls that this was the edge of the civilized world, and those on the other side were not welcome." (Click to read more.)
(Copyright © PHC 2018)
Keep checking back as this story unfolds…